The absolute cheapest way to makeover a room? Move the furniture around!
I've been lukewarm about our living room for awhile. It was very comfortable, but the composition left something to be desired:
We have two very comfortable recliners and a great couch. But the room doesn't look very well put together. In fact, it looked sloppy and it wasn't a good use of space.
So, I reorganized everything.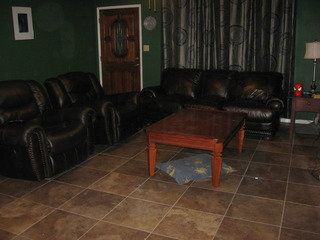 It looks like a completely different room, and the only thing added was a lamp!
(By the way, in case anyone is wondering: Yes, the pillow is supposed to be there. Patches likes to hunker down under the coffee table while we watch TV.)
The new arrangement ties the room together more. It also means that we can sit in our recliners and still talk to company without doing a 180-degree turn in our seats.
Moving the couch opened up a direct walkway from the door. Before, you had to move around the couch almost immediately after stepping inside.
Finally, it means that Tim and I can sit next to each other (not four feet apart) while watching TV.
Big changes — without spending a penny.